New Patients at Restore Life Chiropractic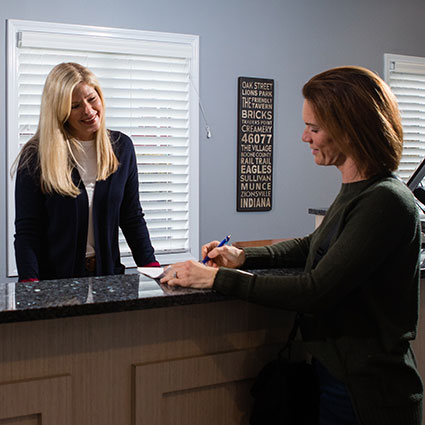 Welcome to Restore Life Chiropractic! We look forward to getting to know you and helping you enjoy peak health and wellness.
Before you come in for your first visit, we encourage you to download the New Patient Health History form from our website and complete it in advance. Doing so will save time.
While we do not bill insurance directly we can print up detailed receipts for each patient if they would like to file with their insurance company. It is the responsibility of each patient to contact their insurance company if they are curious to see what coverage they have.
NEW PATIENT FORMS »

The First Appointment
During this visit, you will have a one-on-one consultation with Dr. Nick. He will review your paperwork and discuss what your individual goals are for care. You will go back to the exam room for a Chiropractic evaluation that will be performed along with a Neurological Diagnostic Evaluation to help determine the cause of your condition. The following will be done:
Thermography - This thermal imaging will evaluate heat readings down the spine to determine where potential nerve disturbances exist.
SEMG and ROM - SEMG will be performed to evaluate electrical impulses that travel from the nervous system to the musculature down along the spine to show potential problems in mechanical structure. ROM will help demonstrate any potential mechanical imbalances in the body.
Chiropractic Evaluation - Several actions will take place during this process that will assist Dr. Nick in making an assessment. The evaluation will include visualization, palpation, motion palpation and range of motion. Based on the assessments, X-rays may be required as these postural images are helpful in examining the structure of the spine and visualizing any spinal degeneration. One of Dr. Nick's mentors used to say, "To see is to know, to not see is to guess, and we will not guess with your or your family's health."
This visit takes between 45-60 minutes.
The Second Appointment
At this Report of Findings visit, Dr. Nick will address all of the data from the previous visit so he can put together a specific care plan for each patient's problems and goals. He will outline the three phases of care:
Symptom relief where your body should start to heal;
Corrective care that aims to fix those things that aren't necessarily causing symptoms; and
Maintenance care to help you stay healthy.
You also will receive your first chiropractic adjustment. This appointment will take about 45 minutes.
If you're ready to get on the path to optimal health and wellness, we invite you to schedule an appointment today!
CONTACT US »
---
New Patients at Restore Life Chiropractic | (317) 344-8400