Meet Dr. Nick Moore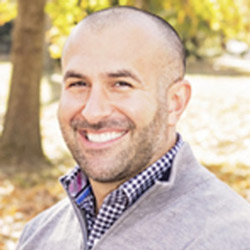 Dedicated and highly skilled, Dr. Nick loves to share his passion for Chiropractic with the Zionsville community. Before obtaining his Doctor of Chiropractic, he worked for eight years in the corporate tax world after earning a Bachelor of Science in Accounting/Finance from Indiana University.
My family and I decided that it was time for me to do something that I loved versus working only to make money.
So after years of contemplating, he was eager to switch his focus to natural health care.
Deciding on Gonstead
In the fall of 2011, Dr. Nick and his family moved from Boston, Massachusetts to Iowa so that he could begin his Chiropractic education at Palmer College of Chiropractic.
While at school he immersed himself in the Gonstead Technique to perfect his art. He also had the benefit of interning outside of school under Dr. Richard Burns (Gonstead Fellow and ICA's 2014 Chiropractor of the Year).
During his schooling, Dr. Nick devoted much of his time to the practice and refinement of the Gonstead Technique. Growing up, he was a patient of several Chiropractors, but none that practiced that method. He was quickly drawn to the technique because of its precise, analytical and cause-driven nature.
Graduating in June of 2015, Dr. Nick earned the Virgil Strang Philosophy Award for his graduating class due to his passion and love for chiropractic. He also was named a finalist for the Clinical Excellence Award.
EXPLORE CHIROPRACTIC »
Caring for the Underserved in India
In fall 2014, Dr. Nick had the opportunity to travel to southwest India with a group of students to establish a Chiropractic clinic to serve thousands of patients. During his time there, he worked with patients ranging from infants to 90-year-olds who had a broad spectrum of maladies.
And while at Palmer, he was assigned to Dr. Cherie Marriott at the outpatient clinic. She specialized in obstetrics and pediatrics which helped Dr. Nick to deepen his foundation in caring for all patient types. While under her supervision, he was able to care for patients as young as 7 days old, as well as numerous pregnant women, their spouses and families in general.
Enjoying a Full Life
When he's not at the practice, Dr. Nick enjoys spending time with his wife Amber and their two sons, working out, and educating people on the many benefits of Chiropractic. He is also a member of the International Chiropractic Association, Indiana Chiropractic Association, Gonstead Clinical Studies Society and Gonstead Seminars, and serves on the Board of Directors for the International Chiropractors Association of Indiana. Dr. Nick was recently elected to the Zionsville Chamber Board of Directors.
Discover for yourself how Gonstead Chiropractic could help you feel your best. Book an appointment today!
---
Dr. Nick Moore | (317) 344-8400